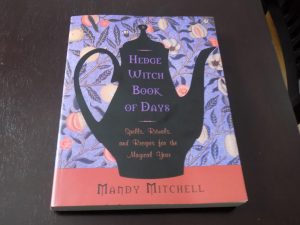 Hedge Witch Book of Days – Recipes, Spells, and Wisdom from the Hedgerow
Once upon a time the witch held a place of esteem in the village; her knowledge of local plants and wayside herbs were used to heal; her wisdom and empathy made her the village matchmaker and marriage counselor; and her ability to commune with nature and animals gave her a place of revelry and wisdom. She was a Hedgewitch.
Aimed at the busy witch, who is both the breadmaker and the breadwinner, this book revives the spirit of the Hedgewitch and teaches you how to make every day one full of wisdom, healing, and magic. For the practicing or would be witch whose life is more jeans, chaos, and the never-ending question of what's for dinner than it is black rodes, cauldrons and incantations, Mandy Mitchell has a recipe for you!
This is a fabulous book! While it is specific to the path of the Hedge Witch, I believe all witches from all paths will get something out of this book. It is a reminder that every day can be filled witch magic in a practical straight-forward approach. There are recipes, spells and rituals for each month of the year. I love that the book is broken down into monthly sections. You don't need to read a giant book and try to retain all that you read. Rather you can live one month at a time and really learn from each experience. Each chapter starts out with correspondences and seasonal foods. A great intro and inspiring way to begin each month.
Mandy doesn't talk down to her readers and I felt a real connection as I read her work. She is clever and relatable.
Hedge Witch Book of Days was originally published by Weiser Books (2014) and is now printed in the U.S.
Written by Mandy Mitchell