"Magical Housekeeping" by Tess Whitehurst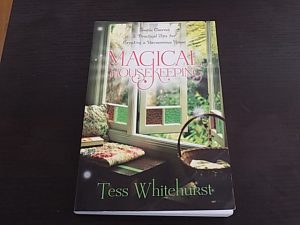 With spring almost here I thought I would share with you a book I read every year at this time. I love spring cleaning and each year I find better and better ways to manage clutter; both magickal and Mundane.
"In this delightful book, energy worker and intuitive counselor Tess Whitehurst reveals how your home can be a powerful catalyst for personal transformation and manifestation. She offers a variety of of simple, whimsical ways to create a harmonious home while enhancing your own happiness, intuition,and magical power."
What I love about this book is that Tess takes us through each aspect step by step without be overwhelming. You can start small. There are many fascinating topics from Feng Shui to crystals, magical cleaners to animal allies. If you need a little inspiration to enhance your home, this is a great place to start!
Blessings
Sway