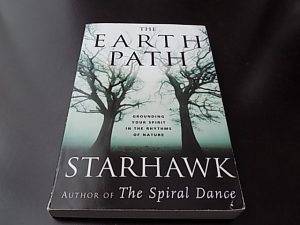 The Earth Path by: Starhawk
I really recommend that everyone read this book at some point along their magickal journey; even if it is only to inspire. I read this book every year to remind me of my goals and keep me on track with my connection to the Earth.
Excerpts from the jacket:
Bestselling author Starhawk takes readers on a journey into the heart of the natural world, showing how we can have a more intimate connection with all that surrounds us.
Combines spiritual inspiration with ecological clarity – a practical guide to living in harmony with Gaia. The exercises included are imaginative and emotionally powerful: no one who puts this sound and sensible book to use will be left unchanged.
I could not have said that better myself.
While this is an older book, it is no less relevant today than it was when it was written in 2004 . I think it is actually even more so when we consider what our culture is like today and how we are treating the earth.
My favourite activity from this book is the Nature Observation Journal. It gets us out and observing nature everyday learning to see patterns, cycles and just making a spiritual connection consistently. Starhawk shares some of her observations in the book as well. I not only found them fascinating but it also gave me an idea about how to write mine.
Starhawk is a hero and she is setting a good example for us. She walks her talk! You can check out her website here.
Blessings,
Sway