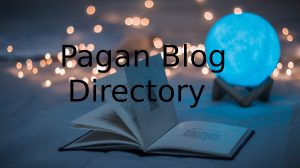 Welcome to the Ritually Made Pagan Blog Directory!
If you would like to list your blog here contact me
Be sure to tell me what your blog is about. If you wish you can include the tradition you follow (Wiccan, Shamanism, Eclectic, Druidism etc.) and of course your URL.
I can't wait to hear from you and check out your blog.
Pagan Blog Directory
A Pagan lifestyle blog exploring a myriad of topics from spellcrafting, rituals, healing, recipes, aromatherapy to correspondence charts and music. Lady Black aims to help you incorporate your craft seamlessly into your everyday life.
 The Oracle of water is based around Aethiriel's love & fascination of all things watery and her experience with a predominantly water-based spiritual and magical practice. It is also a voice for ocean and marine life awareness and conservation, which is encouraged and inspired by her work with the goddess Sedna, who has her own page as the site's matron deity.
NanLT is a Pagan witch and intuitive energy healer currently living on the outer reaches of SE London.
She has followed her own spiritual and religious path from an early age, but fully embraced the idea of being Pagan in her early 20s. She was part of a Wiccan coven for many years, and was initiated as a 3rd Degree High Priestess in that tradition before hiving off and emigrating to the UK.
Today, Nan considers herself to be Pagan and witch, but does not call herself Wiccan. If pushed, she will tell you that she is the founder of a first-generation family tradition.
Her healing practice combines Reiki and shamanic methods along with methods that Nan discovered intuitively and through other studies over the years.
In addition Nan also provides oracle readings using the Amulets of the Goddess, a system first created by artist Nancy Blair.
A website for non-theistic Pagans, humanistic Pagans, theistic Pagans with an interest in combining spirituality with science, and those with less clearly defined religious beliefs. Includes rituals for groups of different sizes under Creative Commons licenses. Please join the conversation!
Nature, Myth, Magic and Music.
Not only a blog! Check out Damh the Bard's music (one of my favourite Pagan musicians!)
Damh the Bard – is a modern-day Bard whose spirituality and love of folk tradition is expressed through his music, storytelling and poetry. Drawing on the Bardic tradition, his performances are both entertaining and educational, speaking directly to the heart, and never without a good splash of humour.
As you wind your way up the path through Angels Grove to the door of my Magickal Cottage, lift the handle of the dragonfly knocker and let me know you are there. I'll be happy to let you in. The kettle has just started to boil and tea will be brewing in just a moment. As we sit and chat I'll share ancient knowledge that will help you create your own magickal life!
Witchy Words strives to be a blogging resource on opinions about modern paganism and Witchcraft.  Seeking transparency in all things, this blog offers a visual perspective on rituals, spell crafting, altars and more.
Pagans, Wiccans, Shamans, nature worshippers, witches, solitary practitioners, and holistic-minded peop who are looking for a realistic, simplistic, & money-minded approach to Paganism & magick. It features rituals, spells, natural altars, herbal medicine, natural stress management, and tips for living life in simplicity. My motto is: Worshipping Nature Shouldn't Cost You a Dime.
An online news journal supporting Pagans, Heathens, and polytheists worldwide.
Lady Serpent is long-time Witch (23 years since her first dedication ceremony) and an ordained Priestess of Pagan Religious Witchcraft. An aspiring author working on both a fantasy novel and a non-fiction book about implementing traditional workings of the Craft into eclectic practice, she's a Double-Gemini with a wide array of interests and hobbies who must have multiple projects going on at once to feel normal. This is most likely because she has a fascination with overloading her brain with information. Sometimes, this erupts in the form of writing blog posts, poetry, essays, and freelance journalism articles.
She serves her coven and the wider Pagan community as Priestess. As per her credo, this means she is: educator, counselor, minister, and a public face for Wicca/Paganism when such is needed.
She is owned by a fat black cat name Saladin and enjoys spending time with her heterosexual life-mate Phillip.
Also… She loves naps.
A blog about Paganism, Witchcraft, and the day-today-experiences of a witch living in the UK