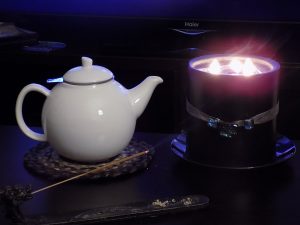 Sitting here having tea with Cassie Nightingale AKA "The Good Witch" (Presented by The Hallmark Channel)
I just love these movies. They are wholesome and cheesy in a time where it seems nothing is wholesome and cheesy.
I am a horror movie addict but once in awhile it is refreshing to watch something that gives you warm and fuzzy feelings. There are 7 made for TV movies in the series. However, even with the brilliance of online shopping I have been unable to find the last three. They play them all on TV right before Halloween. (I can't remember what channel I saw them this year, "W" maybe?)
I think my favourite witchy movie is "Practical Magic", but "The Good Witch" comes in at a close second.
What's your favourite witchy movie?
Blessings,
Sway