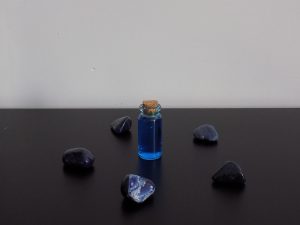 I am bi-polar and have a severe anxiety disorder on top of that. I am often overwhelmed in the madness that lies outside my walls. I used to be a lot worse when I lived in the city but my anxiety has lessened now that I am out in the country. However, no place is impervious to becoming chaotic. I will share with you the simplest way to find a little peace no matter what situation you are in.
Aromatherapy is an amazing method of creating any type of atmosphere or emotional response we wish. Our sense of smell is connected deeply with our emotions, memories, and our reactions to situations.
Here is a detailed list of essential oils and they're calming properties. Everyone has their own idea of what smells nice to them and what doesn't which is why the list is big. There is a scent out there for everyone, you just have to find it.
Grab a small bottle of your chosen oil and keep it handy in a pocket, bag or purse so you can take a whiff any time you need to. After you use this for awhile your brain will come to associate the scent with peace; making the process automatic. To start with take a good inhale of the oil and then breathe deeply in and out slowly a few times. Repeat until you feel calm and collected. Try to stick with one scent to condition your brain.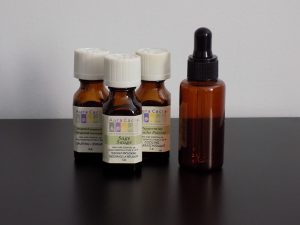 Source: The A to Z of Essential Oils By: E. Joy Bowles
Rosewood (or Bois-de-Rose) Aainba rosae odora
Good for emotional vulnerability.
Chamomile Anthemis nobilis
Good for general anxiety.
Chamomile oil can be very pricey for the real deal. But if the scent really works for you it's worth the investment.
Frankincense (Olibanum) Boswellia carterii
Good for stress-related shortness of breath.
Neroli Citrus aurantium Var. amara (flowers)
Good for anxiety and stress.
Lemongrass Cymbopogon citratus
Good for low energy and tiredness.
Peppermint Mentha piperita
I included peppermint on this list because it is so great for headaches. Headaches so often occur when we are under stress. Inhaling the fragrance can really help. You can also keep a diluted version with you if you get tension headaches and massage it onto your temples as needed.
Basil (Sweet Basil) Ocimum basilicum
Good for mental stress.
Patchouli Pogostemon cablin
"Mental distraction. Wear a drop of patchouli oil as a perfume on the collarbones to help focus and 'ground' mental energies."
I love that essential oils are so easy to use on the go.
Aromatherapy is a wonderful way to help assist healing, meditation, sleep, pain, skin problems… the list goes on and on. Many essential oils are inexpensive and easy to obtain. Once you get a feeling for what oils work for you, you can start making special blends for your unique needs.
I recommend getting a good book on essential oils such as the A to Z I've cited here, and experiment.
Only buy 100% pure essential oils. There are many "fragrance" oils that will not work in aromatherapy or spellcasting for that matter.
The great thing about buying oils from a physical store (as opposed to online) is that you are able to smell each oil in the store so you know if you like it or not. Make a note of the oils you like and dislike.
Do you have a particular blend that works well? Leave it in the comment section to share with others.
Blessings,
Sway