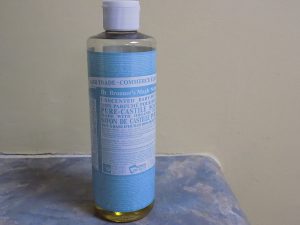 An In-Depth Look at Castile Soap
Castile soap today is made from vegetable oils like coconut, hemp, jojoba, and olive. Check out David Suzuki's website link at the bottom for info on soap being made from palm oil and why not to use it. (Spoiler alert: It is causing orangutans to go extinct).
Castile soap comes in two forms, bar and liquid. I prefer liquid for cleaning as it is easy to add to mop water etc.
Right now I am using Dr. Bonner though I've heard of a Canadian made brand called Mountain Sky and it is vegan and not tested on animals. Dr. Bonner is also vegan and not tested on animals.
The bar soap version is made with vegetable oils and sodium hydroxide and the liquid is made with vegetable oils and potassium hydroxide.
Here I will be focusing on the uses for the liquid soap. If you have tips and uses for the solid castile soap, please share them with us!
Castile soap comes in a variety of formulas. Some are scented with natural oils others are designed for use on babies. Some have other oils (such as hemp) added for extra moisture (great for using as a body wash). For cleaning I tend to stick with the fragrance free. I like to add my own essential oils or be scent free altogether.
Uses for castile soap in homemade cleaning products:
You can add it to mop water. A typical solution is about ¼ cup liquid castile soap into 2 gallons of water. However, I use less because I have a small mopping bucket, so it's about half that recipe. I like to add lemon oil to my mop water. You can add tea tree oil for an antibacterial effect or other essential oils to bring specific energies into your space as well. You can choose oils for harmony, peace, love, spirituality and health etc. Rose is great to help strengthen the bonds of love with your family members.
You can use it as a veggie wash too. The veggie washes from the health food store can be really pricey and the main ingredient is usually liquid castile soap. So if you are one who likes to wash veggies this is a simple and cost effective substitution. Add a ¼ teaspoon into a bowl or sink of water and wash and rinse your veggies and fruit.
There is a great dilution cheat sheet here: http://www.lisabronner.com/dilutions-cheat-sheet-for-dr-bronners-castile-soap/ that will also give you extra ideas for uses.
Last week I mentioned glass cleaner. As I've said I do not like the smell of vinegar so I love recipes that don't use it. The cleaning products I will have in this 4 part series are all vinegar free. However, if you don't mind the smell of vinegar there are countless recipes online.
Homemade Glass Cleaner
This recipe uses vodka. Always be sure to keep all cleaning products out of the reach of children!! If you are in recovery there are many alternative homemade glass cleaners. Some utilize lemon juice and some vinegar.
Buy the cheapest vodka you can find. You only need 4 ounces so you can buy a really small bottle.
This recipe yields 24 ounces.
You need:
16 ounces of water
4 ounces of vodka
You can add some lemon essential oil for a fresh and clean scent, but it is not required. If you add oil use about 10 drops of pure essential oil.
Put in a spray bottle, glass is best, especially if you've added essential oils. Essential oils will eat through plastic! Shake before use. It helps to use glass-cleaning cloths. They reduce streaking and are reusable. I have found them at the hardware store and dollar store.
Sources: David Suzuki www.davidsuzuki.org
Dr. Bonner www.drbronner.com
Many blessings,
Lady Black