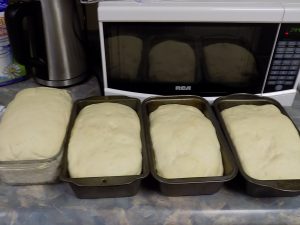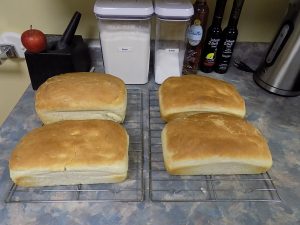 Bread is something that is integral to many people's diets. I like to make four loaves at a time that way I am only making bread once a month. I started making my own bread because grocery store bread was getting pretty gross to me. All I seem to taste are chemicals. Store bought bread is also filled with air to make it more "light and fluffy" which means it is not as filling. I find bakery bread to be lovely though the price tag is not so lovely.
There is just something so satisfying about making bread yourself, and don't get me started on the magickal scent while it's baking. Plus is it delicious!
I use coconut milk in all of my bread recipes. It makes the bread light, but still dense. Use the coconut milk in the carton, not the canned milk for this recipe.
If you have other big batch bread recipes please share them with us!
Bread Yields 4 loaves
Scald 2 cups of coconut milk
Pour into a large bowl and add:
¼ cup white sugar
4 tsp. Salt
¼ cup vegetable shortening
1 cup water
Stir until the shortening melts. (If you are having trouble with this as I sometimes do, I put it in the microwave for a few seconds before adding it into the bowl. It melts faster.)
Meanwhile, dissolve
2 tsp. Sugar in 1 cup warm water, then sprinkle
4 ½ tsp. Yeast (if you are using the envelopes of yeast it is 2 envelopes)
Let stand until yeast has dissolved then stir briskly with a fork. Add to your milk mixture.
Beat in 5 cups flour – then gradually beat in additional 4 ½ – 5 cups flour (This recipe just barely fits in my standard kitchen Aid mixer, you may find it too large depending on what size you have. It does fit perfectly in my extra large mixer. Of course you can do this by hand if you don't have a mixer or it doesn't fit)
Knead dough on a floured surface. Grease a large bowl, put dough in bowl and cover with a clean tea towel and let stand in a warm area 1.5 hours or until doubled.
Punch down bread and let double again.
Separate into four pieces and bake in greased loaf pans at 400°F for about 30 minutes.
Notes: cooking times are suggestions. Your oven may be hotter like mine and it cooks faster. I always check at around the 20 minute mark.
Many people who make bread occasionally, buy the envelopes of yeast. They don't use enough to justify buying the big jar if they are throwing most of it out. There is nothing wrong with this. However, if you get into bread making you will want to change over to the big jar, or buy it at a bulk store. You must refrigerate the yeast once it has been opened. (2 ¼ teaspoons of yeast equals one envelope in any recipe).
Happy baking!
Many blessings,
Lady Black