Gearing up for winter and the Winter Solstice, it is a great time of year to get creative. It's nice to have something to look forward to on these dark days.
I recently made my partner a Yule gift out of his favourite stone: hematite. He has had many hematite necklaces over the years that have broken. Since he always buys a new one in a little different style I had so many beads in different shapes. So I figured I could make a decoration for him and the idea of a snowflake came to me. With it shiny, icy look the hematite worked out nicely.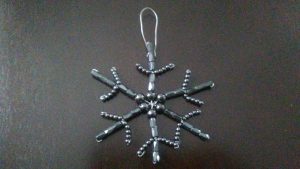 This was very easy to make and you can use any kind of bead you like.
You'll need beads, beading wire and beading wire pliers with a cutting feature.
Begin by taking 3 equal length pieces of beading wire in a gauge appropriate to the size of the bead you're using.
Choose one length that will be you main wire. Take the other 2 pieces and fold them around the middle wire, twisting tightly once.
Next, begin adding beads to each arm of the snowflake. Use the same number of beads per section. Fold the wire over at the end of each arm to hold the beads in place and trim off the excess.
Next, cut small lengths of the wire, 1 for each arm. Wire the beads and fold the wire over at each and to hold beads in place and trim of excess. Now wrap each small length tightly in the middle of your long wires.
Now you can bend each wire so it makes a well formed snowflake shape.
You can add a wire hoop at the top of your snowflake but cutting a medium sized length of wire and forming a loop with the ends down. Next wrap the 2 ends around the snowflake arm tightly to attach. Bend the wire to form an even loop shape.
I made this quite a while ago so I can't find the pictures of each step. Hopefully my description and the pic of the finished product helps you to make them yourself. Happy crafting!
Many blessings,
Lady Black